Halfway Harmony singing "Minnadhu Breaks"
Halfway Harmony is a group based in Kingsand which sings Cornish Folk, sea shanties, traditional rock and easy-listening songs, often with a touch of comedy. Any member of RPMVC is welcome to join.  Halfway Harmony have raised thousands of pounds for charities over the years and have sung at County Shows, Festivals and all types of social gatherings. Our most recent performances were a wedding at Rame, Saltash St Stephen's Summer Fete, and Quethiock Show. We played to packed houses in celebration of Cornwall's patron saint. On March 4 we performed a two-hour programme at the Wilcove Inn, and the following evening we helped celebrate the traditional St Piran Shout at Kingsand's Halfway House. Towards the end of last year we did a gig at Antony where we helped Andrew Willoughby raise some £2500 for a trust which involves Oxford alumni raising funds for bursaries for Cornish students. No county in England sends fewer students to Oxford but during the time the charity has been in operation, numbers have risen from eight to more than 30.
And we were given the usual generous and warm hospitality when we did our annual Christmas gig at Fort Picklecombe.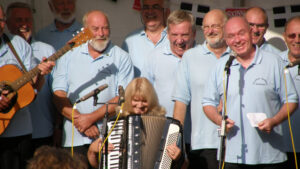 The group takes it's name from the Halfway House Inn at Kingsand where they can be heard singing every Wednesday evening after choir practice.
Halfway Harmony singing in smuggler's style "Zachy's Shanty"
The Max Wall Halfway Harmony men ready for action at the Lions' New Year Swim in Cawsand Bay. (Left to right) Brian Dawson, Martin Walsh, Colin Gilbert, David "Curly" Milsom, and Miles Eckford. This fine body of men won the event fancy dress award.