THE Rame Peninsula Male Voice Choir was founded in 1976, after a chance remark by The Rising Sun's landlord – not the first good idea inspired over a glass. Initially 14-strong, the Rame choir grew to almost 50 within 10 years, quickly establishing a reputation for charity fund-raising. They've also won a few competitions over the years. Since our inception we've donated more than £250,000 to good causes. This led in 2018 to nomination by our community for the Queen's Award for Voluntary Service. We were the first men's choir in Britain to be honoured with what is considered the MBE for voluntary groups. Many fellow choirs in the Cornish Federation of Male Voice Choirs supported the Derriford Oncology initiative which aimed to help provide diagnostic equipment in the Plymouth hospital. This spared cancer patients round trips of up to 400 miles as the previous nearest available treatment was in Bristol.
The choristers began life in Kingsand Scout hut, moved to the Institute – the village's famous clock tower – then the Community Hall.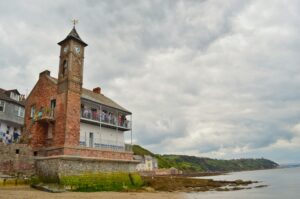 We've been blessed with several outstanding musical directors, of whom the late John Woodfield was the longest-serving. The post is now held by Jonathan Lewsey, a former operatic bass and opera company musical director whose cv includes salvaging the voices of celebrity rock stars. He has taken us to new vocal heights and convinced us that anyone can sing! He and accompanist Liz Sidebotham are both paid professionals. Members, the majority retired or semi-retired, have included ex-servicemen, sailors, farmers, barber, lawyer, engineers, teachers, a raft of skilled tradesmen, journalist, Royal Marine bandsman and tutor, prison officers, baker, chef. Ages range from 21 to 93. Under new chairman Martin Walsh, we aim to focus more on local charities in future, though we still help Derriford Oncology. We support local youth choirs and singers, perform in primary schools (in Cornish!) and dementia wards.
We present our own concerts, perform at weddings and funerals, birthdays and anniversaries, and have sung all over the UK. We have done so with the Royal Marines, Russian Army choir and orchestra, and in France, Germany, Holland, Spain, and Ireland.
None of this would be possible without our outstanding supporters: ladies who bake, design and make jewellery, take photographs, organise raffles and coffee mornings, plus a raft of volunteers  . . . and our incredibly loyal, generous, and inspirational community.