June 2022
Royal Marines honoured
THE choir sang at a poignant memorial service for three Royal Marines who drowned in a tragic accident in Cawsand Bay 54 years ago. Hugh Shiel was the sole survivor when he, Michael Coleman, 27, Michael Perry, 20 and Percival Newland, 19, attempted to row back to Stonehouse Barracks after a night out. Mr Shiel, now 72, had campaigned to have a plaque erected, and he finally unveiled the memorial on the wall of the Congregational Church on July 3. Afterwards Rev Jill Murray led prayers in Cawsand Square.
June 2022
Jubilee bonus for Maker
THE choir was honoured to host a concert as part of the Queen's Platinum Jubilee celebrations at Maker Church, with an audience well in excess of 200. By the time the beacon was lit outside – part of a chain across the nation – we had been joined by the choirs from the Women's Institute and Rame Team Ministry, staging a second concert including community singing. By then numbers had almost doubled on a memorably historic, stunning, warm evening. We were delighted to learn that proceeds from the event totalled £730 which was donated to the Maker Church renovation appeal. We will also do a further concert at Maker for this worthy cause.
FOR the second time in six years the choir has been awarded the President's Plate, presented annually by the Cornish Federation of Male Voice Choirs for work within the community. Given the constraints of lockdown, this was a challenge for all choirs. However it seems the federation was moved by the account of Bill Russell's funeral at Maker, where we formed a silent guard-of-honour to his graveside, then were obliged by prevailing regulations to remain silent while the family played our cd. The federation was also impressed by the community response to lockdown  – ie farmer Dave Turner's loan of his barn for rehearsals. The rat which ran out as we sang hints at a missed opportunity in rodent control for our cds!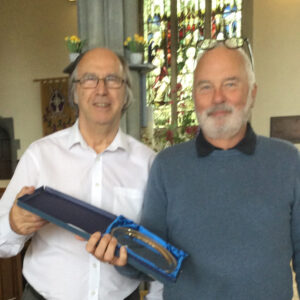 Chairman Martin Walsh was presented with the trophy by federation chairman Phil Taylor at the Men of Cornwall Choir rehearsal in Newquay. Photo: JUDITH PINGUEY
May 2022
HALFWAY

Harmony helped raise £254 for church and cancer charities when they sang at St Bartholomew's Church, Lostwithiel, with the ukelele band, Lost Chords.
Wedding bells
WE were at Maker Church at the end of the month for the wedding of Emma Channing and Tom Hall, performing 11 songs and leading the three hymns  – a joyous occasion on a truly glorious afternoon.
March/April 2022
SING 4
Ukraine, 
£2500 cheque
sent 
 photos by Kate Atkinson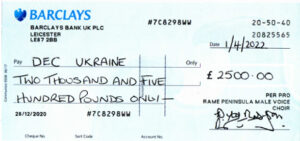 THE choir concert in Kingsand Community Hall in support of victims of the Ukraine conflict raised a staggering £842. We are overwhelmed by the manner in which our community has yet again opened its hearts and its wallets. With proceeds from the Institute coffee morning and all receipts from Halfway Harmony's St Piran's Day gig in the Copley Arms, plus further donations, this resulted in a cheque for £2500 being sent to the Disasters Emergency Committee. Thanks go to all who contributed. The choir was joined at the March 12 concert by Looe-based Keltique, and by choristers from Loveny and Pelynt, and we thank them for their support in what proved an uplifting and emotional concert, with both choirs and many of an appreciative audience decked in Ukraine's national colours. We must also acknowledge the generous support of the Community Hall and the Community Bus, both of whom waived the fees for their services. Sadly, the concert came at a cost. Several choristers and members of the audience have since succumbed to Covid – to date none of them reporting serious symptoms. Speed your recovery.
February 2022.
Welcome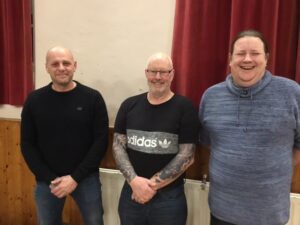 YOU wait ages for a new choir member, and then like a dodgy bus service, three show up at once! So welcome (above, from left) Andy Jenness (bass), John Lingard (top tenor), and Jason Holt (baritone). And – joy and rapture – they can actually sing! All three have discovered the well-trodden path to the Halfway House, and are proving a welcome addition to the ranks of our folk, sea shanty, and rock ensemble, Halfway Harmony. Great to have you aboard.
February 2022
All our yesterdays
WE HAVE unearthed four cassettes made by the choir – the first dating back to one made for our tenth anniversary. You can see copies of the sleeves on the CD page. There are only copies of 25 Years of Song available to sell, but we are exploring the quality of the four recordings to see whether a new cd  – a sort of "Greatest hits" or "Best of the choir" can be compiled from nearly 80 tracks on these. Chairman Martin Walsh has offered to explore the possibilities of re-engineering all our yesterdays. To buy the 25th anniversary tape (£6 inc p&p) click here
Massed choirs of Cornwall
SINCE May 2019, groups of Choristers from the various Male Voice Choirs in Cornwall from East to West, and North to South, planned to meet every month to rehearse the repertoire for this tremendous event. Until Covid struck. Rehearsals have now resumed, and individual choirs are also practising at their own rehearsals with individuals learning within their own personal time. Four MDs: Marcus Alleyne, Kate Wood-Catran, Stephen Lawry, and Philip Taylor will each take a set, and we are thrilled that our very own accompanist, Liz Sidebotham, will be working with Marcus and Phil. It promises to be a fantastic evening. The Symphony Hall is ranked No1 in the UK for acoustic quality, and seventh in the world. So it is an event not to be missed. Originally planned for 2020 but postponed twice due to to the pandemic, the date is now set for Saturday 3rd September, 2022.  All tickets already purchased remain valid.
February 2022
New music files
LIZ has put music files of all four parts of the Birmingham music, provided by Marcus Alleyne on our website. Some items are already in our repertoire. It is an invaluable teaching resource for us. She has also massively updated our own music files. So please use them.
February 2022
THE Covid pandemic effectively silenced our choir. From Christmas 2019 to the summer of 2021 we had no performances for 20 months Prevailing regulations also meant that for most of that, rehearsal indoors was banned. We were unable to sing at the funeral of leading bass Bill Russell where we had the bizarre experience of lining the route to his grave, socially-distanced through Maker churchyard, as the family played a choir cd of his favourite tunes. It was an emotionally harrowing departure from choir tradition.
We were fortunate that one of our number, farmer Dave Turner, provided the use of a large barn where we were able to rehearse prior to resuming open-air concerts in August 2021. His cows seemed to enjoy the experience though no research was done on whether milk yields improved. However, one large rat was seen to race from the building as we sang, prompting the thought that our cd may have added value as a rodent deterrent!
Full rehearsals have resumed and we have since been blessed with a few new members. Yet our first indoor post-lockdown event proved fraught. The choir traditionally helps launch the Royal British Legion poppy appeal, but when they did so, more than half succumbed to Covid, with one being hospitalised.
Our first concert since Christmas 2019 was enthusiastically-welcomed outside The Rising Sun on The Green, in early August. There was no disguising the pleasure of one of the largest audiences before which it has been our privilege to perform. Generosity was overwhelming – a total of £550 raised due largely to the efforts of our wonderful band of lady supporters. We would like to thank the community whose support was repeated when the choir gave a second concert on The Cleave and a third in Cawsand Square. A fourth, planned for the Community Hall garden, had to switch into the hall, due to rain.
The choir's folk, sea shanty, and 60s rock ensemble, Halfway Harmony, performed in the Community Hall garden at the church fete, where cheques were presented by the Rame choir to the Institute, Community Hall, and to help fund defibrilator pads. That had been raised by street carol-singing in the twin villages at Christmas 2020 – the only time we had been able to sing since the Community Hall concert a year earlier.
Andrew Willoughby, whose son Robin is the choir's youngest member, hosted a lunch at his home near Antony. There, the Halfway group performed to a gathering of Oxford University alumni whose objective is to raise funds for bursaries available to Cornish students – more sparsely represented at Oxbridge than students from any other county in the UK. The Halfway ensemble had taken advantage of a gazebo in a member's garden for outdoor rehearsals over several weeks.
The Christmas Concert where we were joined by the Singsanders ladies' choir, proved a rewarding return – but challenging given it was in competition with the final of Strictly!
Rehearsals for the Men of Cornwall choir have recommenced – their delayed concert in Birmingham will now take place with some 300 voices on September 3. A provisional programme is underway, including a memorial service for Rame members lost over the past two years, plus two weddings, and a Queen's Jubilee event at Maker church.
Our first annual meeting in two years saw the re-election of Martin Walsh as chair, David Rosson returned as secretary, and Dave Turner as treasurer. David Clarke took over as vice chairman and also resumes as concert secretary. We continue to welcome anyone interested at our weekly Wednesday rehearsals (7.30pm in Kingsand Community Hall). Being deprived of singing for so long has reinforced how much we have missed it, and how therapeutic singing is.
January 2020
TWO of the choir's most loyal committee servants stood down at the annual meeting. Between them, David Rosson and Barry Rundle had logged almost 30 years' service, contributing enormously to recent successes, but feel they need a break.
David had served four stints as secretary, a prodigious 19 years in all, while Barry completed a straight eight as treasurer. Both second tenors are regular soloists.
Barry acted as choir rep at the Cornish Federation, where he did much to enthuse other choirs who supported Rame's fund-raising efforts for Derriford oncology. Barry was also a regular compere at concerts.
He is succeeded as treasurer by award-winning Mendennick farmer Dave Turner, while Tim Hensman steps up as secretary. Martin Walsh continues as Chairman, with Dave Clarke and Graham Hoare remaining concert secretary and webmaster respectively.
December 2019
THE choir's charitable ethos was reinforced over the festive period with a raft of activities. These included the Christmas Fayre at Mt Edgcumbe, and within hours, a further performance at Antony Business Centre's Craft Fayre. There was an emotional appearance before dementia patients at Bodmin Hospital with some patients up dancing – reportedly engaging with carers for the first time in months.
There were charity events at Thankes Park and Fort Picklecombe, plus spectacular concerts with Torpoint Ladies in St James's Church and The Singsanders in Kingsand.
In Torpoint the beneficiary was a children's cancer charity, while the joint concert with The Singsanders in a packed Kingsand Community Hall raised a remarkable £500 which will help provide new disabled toilet facilities.
We thank our community which proved as generous as ever at our December coffee morning where £500 was raised towards our annual costs.
May 2019
VERY sad news. Our choir recently had the sad privilege of singing farewell to our oldest member, Fred Luckraft, who has died at the age of 93. For his obituary, please see here.
Pictured below are Robin Willoughby (our youngest member) with Fred Luckraft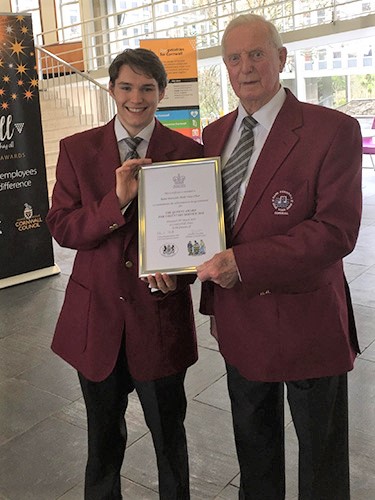 Autumn 2018
OUR choir continued to break new ground. On 12th October 2018, a "Musicals Night" was presented in Torpoint, along with the Keltique ladies' choir. Then, on Saturday 10th November, the Choir played a full part in a moving commemoration of the end of World War One.
Summer 2018 

THE choir was honoured to be awarded the Queen's Award for Voluntary Service (QAVS – the MBE for volunteer groups).
The Award was presented to the Choir at a special, free concert held at St James Church, Torpoint on Friday 24 August 2018. See pictures.

Check out our special QAVS page.
OUR thanks go to the whole community and the supportive men's and ladies' choirs from all over Cornwall whose generosity helped us win the Queen's Award.
We're the first men's choir in the UK to win it, and this was Cornwall's only winner in 2018.
By early 2020 when our Derriford Oncology equipment appeal was finalised, it had raised in excess of £22,000. We could not have done it without you. For us, this honour embraces our whole community.
---