NOVEMBER
NINE members of the choir were enlisted to sing and act in the Rame Theatre Company's musical, Mayflower Pilgrims and Curse of the Skeltons. Written by the choir's Andy Copp, with music by our accompanist Liz Sidebotham, the novel role took members out of their comfort zone. Not least Andy who was making his debut as an author, director, lyricist and actor. But the response from a receptive audience in the Congregational Church suggested they'd enjoyed the evening. Proceeds went to local charities. Andy is seen above as Sir John Skelton, being lectured by King Charles II (Bill Clifton). Hello sailor! Steve Davis, as captain of the Mayflower.  John Mostyn-Bond (right) is the innkeeper, encouraging the gentry to "have another one". Steve Davis (left) and John Bintliff (centre) comply enthusiastically, but Dave Rosson (rear) appears uncharacteristically teetotal!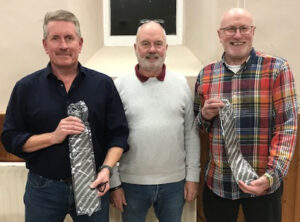 We welcomed two new members this month. Baritone Ivan Hooper (above, left) and second tenor David Taylor (right) were presented with their choir ties by chairman Martin Walsh following a rehearsal. Photo: David Clarke
OCTOBER
OUR traditional support of the Harvest of the Sea in Cawsand Congregational Church was a rewarding and fulfilling experience, particularly for new members on their first appearance in the beautifully decorated "Church on the Rocks". This service, as ever, was in aid of the Royal National Mission to Deep Sea Fisherman, and we were delighted to support a cause so embedded in our roots.

We enjoyed our role in celebrating the 40th Anniversary of the Cornish Federation of Male Voice Choirs with a four-choir extravaganza in Saltash Wesley Church, joining Burraton, Tintagel Orpheus and Kerrier. There were similar multi-choir events across the Duchy. And we were honoured to make our traditional contribution to helping launch the Royal British Legion Poppy Appeal at Torpoint St James's Church. It was a particularly emotion-charged day, given that earlier we had sung at the funeral and wake of our much-loved baritone, Jason Holt. Our folk, sea-shanty and 60's rock ensemble, Halfway Harmony also performed at St John Inn Applefest.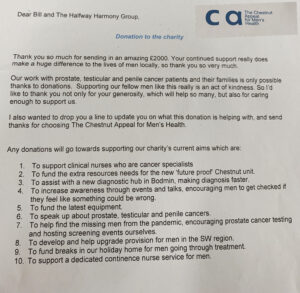 Halfway Harmony has received a gracious acknowledgment of our latest donation to the Chestnut Appeal. Poignantly it arrived less than a week after the sad death, from prostate cancer, of baritone Jason Holt. The appeal's letter stated:
"Thank you for sending in an amazing £2000. Your continued support really does make a huge difference to the lives of men locally, so thank you so very much. Our work with prostate, testicular and penile cancer patients and their families is only possible thanks to donations."   It went on to list ten ways in which the money would be used. These include support for cancer specialist nurses, increasing awareness, a new diagnostic hub at Bodmin, the latest equipment, developing and upgrading provision for South West patients, and funding breaks in the appeal's holiday home for patients.
Halfway Harmony has now donated £8000 to the Chestnut Appeal, as well as thousands to mesothelioma research and Cornwall Air Ambulance.
SEPTEMBER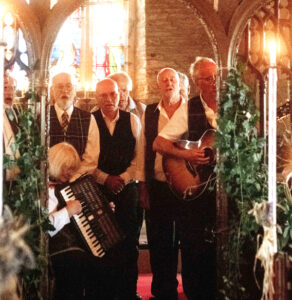 WE enjoyed an excellent evening concert at St Germans Church with our hosts, Tamar Valley Choir on the 16th of the month. It was a hectic day, for earlier our Halfway Harmony ensemble, with accompanists Liz Sidebotham (accordion) and Andy Milloy (guitar), performed at a wedding in Rame Church – a 45-minute selection of Cornish folk, sea shanties and 60s rock and ballads. We have a committee meeting on Friday, September 22 at Gallows Park (6.00pm). This will be followed by a rehearsal for Halfway Harmony.
p?
LARGER than life, fun-loving, but sensitive and caring, Jason was cruelly taken from his family and friends much too soon, aged just 52 following a fierce and courageous battle with cancer. From Millbrook, he trained as a chef and spent his working life in hospitality. Jason was a much-loved and highly-regarded baritone in the Rame Peninsula Make Voice Choir which he joined in February 2022. A gentle giant with a big personality, he also performed with their folk, sea-shanty and 60s rock ensemble, Halfway Harmony, helping raise money for The Chestnut Appeal. With cruel irony, prostate cancer which spread to his bones was to claim the life of this, the youngest member of the choir. Jason's funeral will be on Thursday, October 26 in Bodmin Crematorium where his coffin will be borne by choristers. The wake afterwards will be in Kingsand's Halfway House where his favourite songs will be sung in tribute. The choir will sing at the Glynn Valley service while the HH will perform in the Halfway.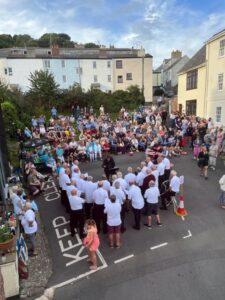 Picture: Dawne Pearson-Fairhurst
THE choir's final outdoor summer concert was played out to a packed crowd on a glorious evening on The Green (above). Keltique, the Ladies choir from Looe,  with whom the Rame Choir share musical director Jonathan Lewsey and accompanist Liz Sidebotham, filled half of a superb programme.
We must record our thanks for the generous public support of our joint efforts, and also to Rising Sun landlord Michael Hodge and his staff who provided, gratis,100 pasties for the hungry singers.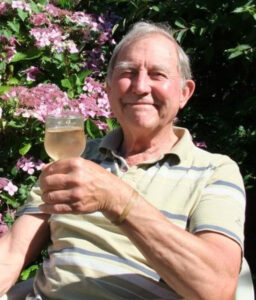 IT IS with great sadness that the choir has learned of the death of our former bass stalwart and Halfway Harmony legend of the guitar, Miles Eckford. The self-styled Cornish Kiwi followed his heart to Cornwall when he met his beloved Frankie and settled in Wilcove. His repertoire of songs was vast and staggeringly eclectic, as one might expect of a man who sailed the world, including before the mast: songs like Bluenose, evoking the age of sail which we loved to romanticize with him. Or he would bawdily and with relish give vent to Nobby Hall, always checking children had left the bar! Or hauntingly – Guantanamera, in Cuban – Spanish. Not always appreciative of the linguistically challenged of our group who would insist the chorus went: "one ton of marrows". His favourites included Tom Lehrer, Harry Belafonte, and Thin Lizzie. It is no exaggeration to say that without Miles, there would be no Halfway Harmony. Unsurprisingly, his favourite numbers were sung with affection as we celebrated our old friend in The Halfway, and the choir was out in force for his funeral at Maryfield on August 22 (11.00 am). On top of the wicker coffin was Miles 's guitar and the silver fern motif of his native New Zealand. Afterwards Halfway Harmony sang his favourite songs for the family at an emotional wake in Wilcove Community Hall.
Our first two outdoor concerts were stunningly supported despite inclement weather forcing the first into the community hall, and the second being shrouded in mist. Our visit to sing as guests of the excellent ladies' choir, Keltique, on Looe quayside was also driven under cover, but was also successful. The sun finally shone on our third August outdoor event, in Cawsand Square. Thanks for all the generous support. We hope to see you again for our final outdoor event this month: on The Green (Wednesday, August 23).
JULYm.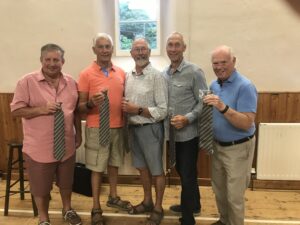 Five go down to the tie shop: these five newly recruited members passed their voice test and were presented with their choir tie at a recent rehearsal. So we welcome (left to right) Andrew Willoughby, Don Seymour, Jack Dyer, Richard Dorrington, and Cliff Webb. Photo: David Clarke
JUNE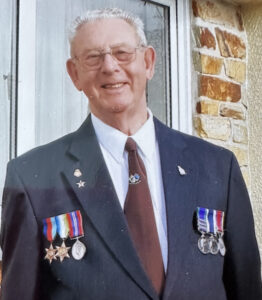 THE choir was deeply distressed to learn of the death of our deputy musical director, Norman Nethercott. A stalwart of the bass section, he died as a consequence of exposure to asbestos on June 7th, at the age of 86. Just three weeks earlier he had attended his final rehearsal and posed in the choir's new kit.
He had served for 34 years in the Royal Navy, starting as a teenage artificer at HMS Fisgard and rising to sub-lieutenant having graduated as an engineer at Manadon. He survived the bombing of his home in Devonport, hiding under a table as the house burned, and then an explosive device outside his cabin in Northern Ireland. On leaving the service he served several more years as an officer in the navy of the Sultan of Oman before returning to the UK to take up a consultancy with Vosper Thornycroft.
He was a skilled carpenter as well as an engineer, and a huge asset to Torpoint Lions for whom he built a sleigh for their Christmas Fete, and many games. He also made a case for the choir piano which long outlasted the instrument, and crafted trophies and mementoes for the choir. He built a small wooden rowing boat, which he named Snipe, and converted an old pram chassis to serve as trailer. The family would tow it and launch below Chapeldown Road, fishing for mackerel and bass.
"If dad ever repaired anything in the house it was generally stronger than it had been originally," says his daughter, Christine. Norman built a workshop above the garage, and until fairly recently, did the maintenance on Lions wheelchairs.
He had a very fine bass voice, singing initially in his school choir and as a choir boy at his church, Torpoint St James's, where his funeral service will be held on Thursday June 29 with his choir in attendance.
Norman's mother was a fine musician and gifted pianist, and Norman was blessed with the ability to play by ear. Choir musical director Jonathan Lewsey would always offer Norman the baton for "The Lower Lights" and "Calm is the Sea" at concerts. "I was genuinely impressed with the results he obtained," said Jonathan. "These are two of the most challenging pieces in our repertoire, and it's a tribute to Norman's skill he managed to make them sound easy."
Norman and his wife Elizabeth married in 1958, celebrating their 65th anniversary in February this year. He is survived by Elizabeth, daughter Christine, and son Martin. Their brother, Andrew, died in 2000.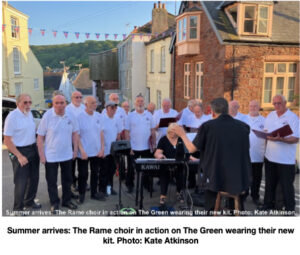 THE choir's first outdoor concert was on The Green, outside the Rising Sun, on Saturday, May 27 (7.0pm). We are grateful to the Parish Council for having arranged cutting of the grass, in which the audience might otherwise have been lost! An enthusiastic crowd – well over 150 strong, saw the first public airing of our new kit and logo, and heard a significantly updated repertoire. The evening was a great success, with the crowd's generosity reflected in more than £300 being raised. So thank you all. It was a busy day for many of our members, as Halfway Harmony performed at a wedding in Kingsand Community Hall in the afternoon. And our accompanist, Liz Sidebotham, and musical director Jonathan Lewsey were in action at an afternoon concert with Keltique.
(video courtesy of Janet James)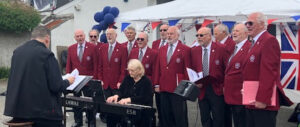 Members had a hectic start to the month, with three performances to mark the King's coronation. The first was a very well-attended concert at Maker Church on Friday May 5. King Charles's deputy Lord Lieutenant in Cornwall was guest of honour (see below). The second event was outdoors, on Sunday, May 7, at Millbrook Village Hall, supporting the village's Big Lunch. Afterwards our folk, sea shanty and 60s rock ensemble, Halfway Harmony, performed in Quethiock village hall (3.0 pm), for their Big Lunch.
WE are delighted to welcome two new members, giving us a treble unique in our choir's history: three generations of the one family in membership. Robin Willoughby (right) aged 25 is a second tenor, and has finally prevailed on his father, Andrew, and grandfather, Philip, to join. Philip, 83, is a bass, and Andrew, 57, is a baritone. Later in the month four men turned up to sample the choir, and we will tell you all about them shortly. But it is a welcome sign that our extensive recruitment drive is bearing fruit.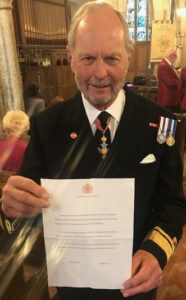 THE deputy Lord Lieutenant of Cornwall, rear admiral Mike Woods (left), was guest of honour at a free eve-of-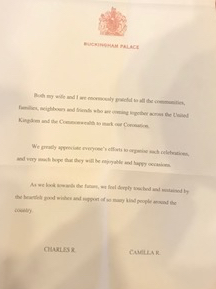 Coronation  concert in Maker Church on May fifth at  which he read a message (right) from his majesty, King Charles. On Buckingham Palace crested notepaper, the message from The King and Queen Camilla read: "Both my wife and I are enormously grateful to all the communities, Families, neighbours and friends who are coming together across the United Kingdom and the Commonwealth to mark our Coronation. We greatly appreciate everyone's efforts to organise such celebrations and very much hope that they will be enjoyable and happy occasions. As we look towards the future, we feel deeply touched and sustained by the heartfelt good wishes and support of so many kind people around the country."
The evening concert was organised by the parish council with proceeds going to the church restoration appeal.
APRIL
THE date of our concert, at Maker Church, originally scheduled for May 4, had unavoidably to be switched to Friday, May 5, at 7.0 pm. We apologise for any inconvenience. Cornwall deputy Lord Lieutenant, Mike Woods, will be the guest of honour for the evening where there will be a collection in aid of the church restoration appeal.
WE are grateful to the Rame Group practice for agreeing that our local GP surgeries in Millbrook and Torpoint will display posters promoting men's mental health and other benefits of singing.
Accompanist Liz has added greatly to the archive of learning videos, so get to work on the repertoire, guys.
We were devastated to learn of the most untimely death of the choir's good friend, Leo Kaserer. The Austrian came from the Tyrol and fell in love with the area of the twin villages while mentoring youngsters over almost two decades. He transformed and enriched the lives of hundreds, and he will be remembered at a memorial service in the Congregational Church on May 14 (2.0pm) where the choir will sing several of his favourite songs. It was Leo, along with director James Steir, who was responsible for the film The Last Fisherman, and for having the choir perform the soundtrack music.
A MAJOR recruitment drive has swung into action, and is already bearing fruit. Every parish and town council, and all GP surgeries and libraries on the Rame Peninsula are being contacted to display posters. Already we have enlisted David Parker and father and son Philip and Andrew Willoughby. Andrew' son, Robin, is already a member – three generations is a choir record.
Though community support is not in dispute, our choir is now reduced to less than half of the 50 that graced it in its heyday. Otherwise our future could be the sounds of silence. Hence our big recruitment drive. Contact our chair:
We were honoured to be invited by the Woodfield family to sing at a moving tribute evening in St John Church, in memory of the late John Woodfield and his wife, Jill.
The church was packed to capacity for poetry-reading, performances by The Blow-Ins – Bridget and Phil – with moving harp and guitar renderings including many of John' s favourite pieces. He was a long-time musical director of the choir and they brought their own tribute to a much-loved friend.
The choir made a £200 contribution to the Woodfield Trust. The following evening the full choir performed at Maker Church where they contributed £200 to more than £500 raised on the night for the church restoration appeal.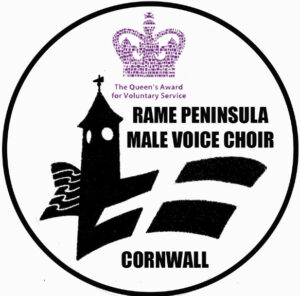 NEW IMAGE
HERE we unveil the fruits of our attempt to create a new, more modern, image for the choir. The logo, designed, gratis, by award-winning artist and illustrator Roy Petrie, will appear on a new polo shirt, samples of which members have examined and approved.  It finally incorporates, for the first time, the Queen's award motif, plus the Saint Piran Cornish flag, Kingsand Institute clock tower, and the waves of the sea.
WE managed to hold a few Friday rehearsals for Halfway Harmony, our folk, sea-shanty, and 60s rock ensemble. These were held, courtesy of farmer Dave Turner, at Gallow's Park.
THE choir annual meeting in January devoted most attention to the organisation's future, specifically recruitment, uniform, and image. The committee is tasked with addressing the problem of declining numbers which is common to all choirs in the Duchy. With just 19 present, it was the poorest attendance at any agm.
However, an excellent annual dinner was hosted by The Bay, and well-attended despite several flu casualties which impacted on rehearsal attendance for a few weeks.
THE funeral of our much-loved baritone, Jan Poetsma, took place at Bodmin's Glynn Valley Crematorium on December 7. The building was packed to capacity, and the service was relayed to the overspill in the adjacent waiting room. Choir members provided a guard of honour at the crematorium and later sang some of Jan's favourite songs at a celebration of his life in The Rising Sun, Kingsand. Jan disliked fuss, loved simplicity, inspired loyalty, and made friends easily. The large numbers who travelled from his homeland bore testimony to this. The humanist service captured the essence of a lovely guy, and the musical accompaniment spoke of a spiritual, soulful, and thoughtful man. Jan and his wife, Jo, met in Georgia while singing in a folk choir, and Georgian folk music featured in the service. Xavier Rudd's Spirit Bird – music to which Jan had listened endlessly – was played as friends and family waited for the service to begin. By a most spooky and poignant quirk, as tributes were being delivered, a buzzard could be seen floating motionless in the chill blue sky across the full width of the picture window behind the celebrant. It seemed symbolic of Jan's spirit soaring free.

Jan Evert Poetsma was born in Hasselt in 1963, fourth of five children. He trained as a carpenter, married Janet, a Netherland's foreign service diplomat, and was a house husband, bringing up their sons Bastian and Jelle. He retrained as a care worker, working hard to overcome dyslexia. Disadvantaged kids had much to be grateful for in what he did for them. Jan and Jo, having been friends for a decade, married in 2016, and were intent on building a new life in Kingsand where Jo's parents, Mike and Claire Baskott, have lived for many years.
Jan was decent, kind, considerate, sociable and very good company. Whether that was playing crib, chatting over a beer, or swimming or running, both of which he did almost daily. The choir will miss him enormously, a friend taken much too soon. The family invites friends to donate to Jan's memory. The three local charities they have chosen are Piggshill & Clarrick Woods Project, the Rame Peninsula MVC, and the Rame Community First Responders who attended Jan on the Minnadhu.
November 2022
OUR Choir was devastated by the sudden, tragic death of our newest member, Jan Poetsma. He was walking the family dog in the Minnadhu when he suffered a fatal heart attack. Despite immediate attention, resuscitation attempts by locals, first responders, and three ambulance crews, he could not be revived. Jan, from the Netherlands, had been resident in Kingsand only since the spring, but had already absolutely embedded himself in the local community. Besides being a major addition to our baritone section, and embracing the folk and sea-shanty ethos of Halfway Harmony, he was also volunteering with the Piggshill & Clarrick Woods Project, and doing gardening for villagers. Indeed, he had already reached an agreement to take over a local gardening business in the New Year. Our thoughts and prayers go to his wife, Jo, and his family.
October 2022
BEFORE the Covid pandemic, our choir boasted nearly 40 members. Despite the arrival of several new members, that number has been slashed by a third. Though nobody succumbed to Covid itself, several have joined the choir eternal, while life-changing illness and the ravages of time have made it impossible for others to remain active.
Prevailing regulations banned our choristers from appropriately marking the passing of long-time friends. We were finally able to honour them properly at a packed memorial concert on October 22 in Maker Church.
WE were also honoured to help Cawsand Congregational Church celebrate their annual Harvest of the Sea festival. Their repertoire included debut performances of two new arrangements of songs written by choir members John Mostyn-Bond and Doug Gillon. Accompanist LIz Sidebotham arranged both of these and they could not have been too shabby, as Rev Jill Murray has already asked them to return next year! Both new numbers celebrated the role of Cornwall's fisherman, with one of them recalling the death of several fishermen from the twin villages in the 1891 storm which sank 63 ships round southern shores with the loss of more than 200 lives. Fatalities and the loss of inshore fishing boats were not recorded in those days. However nine Kingsand and Cawsand hook-liners and their crews are known never to have returned. We also made our traditional appearance, helping launch the British Legion Poppy Appeal in Torpoint St James's Church, on Oct 27.
September 2022
THE Halfway Harmony performed at two weddings this month while several members of the choir were in the 200-voice Cornish Federation of Male Voice Choirs group which delivered an uplifting and well-attended concert in Aid of Cornwall Air Ambulance at Birmingham's National Symphony Hall. Our thanks goes to Phil Taylor and his three fellow conductors who knocked us all into shape. Our former musical director, Jonathan Delbridge, was a star turn with organ solos and provided accompaniment to Samantha Rowe, virtuoso guest flautist and soprano soloist.
August 2022
WITH five outdoor concerts in 33 days, the choir has never had a busier summer series. Mainly stunning weather attracted near-record crowds and receipts. The Rising Sun landlord, Michael Hodge, and families adjacent to venues, generously provided a range of facilities, and we thank them all, as well those who supported our efforts.
July 2022
AFTER an absence, the choir returned to give an evening concert in Millbrook. The parish council addressed safety concerns by providing a traffic marshal, and we timed the concert to avoid buses. It was not the warmest of evenings, and the threat of rain restricted an otherwise receptive audience. Will the male voices of Millbrook beat a path to the door of our rehearsals? Watch this space.
June 2022
Royal Marines honoured
THE choir sang at a poignant memorial service for three Royal Marines who drowned in a tragic accident in Cawsand Bay 54 years ago. Hugh Shiel was the sole survivor when he, Michael Coleman, 27, Michael Perry, 20 and Percival Newland, 19, attempted to row back to Stonehouse Barracks after a night out. Mr Shiel, now 72, had campaigned to have a plaque erected, and he finally unveiled the memorial on the wall of the Congregational Church on July 3. Afterwards Rev Jill Murray led prayers in Cawsand Square.
June 2022
Jubilee bonus for Maker
THE choir was honoured to host a concert as part of the Queen's Platinum Jubilee celebrations at Maker Church, with an audience well in excess of 200. By the time the beacon was lit outside – part of a chain across the nation – we had been joined by the choirs from the Women's Institute and Rame Team Ministry, staging a second concert including community singing. By then numbers had almost doubled on a memorably historic, stunning, warm evening. We were delighted to learn that proceeds from the event totalled £730 which was donated to the Maker Church renovation appeal. We will also do a further concert at Maker for this worthy cause.
FOR the second time in six years the choir has been awarded the President's Plate, presented annually by the Cornish Federation of Male Voice Choirs for work within the community. Given the constraints of lockdown, this was a challenge for all choirs. However it seems the federation was moved by the account of Bill Russell's funeral at Maker, where we formed a silent guard-of-honour to his graveside, then were obliged by prevailing regulations to remain silent while the family played our cd. The federation was also impressed by the community response to lockdown  – ie farmer Dave Turner's loan of his barn for rehearsals. The rat which ran out as we sang hints at a missed opportunity in rodent control for our cds!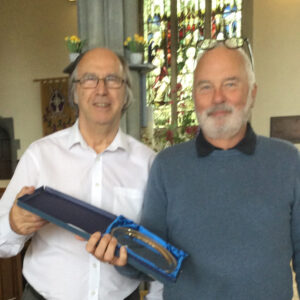 Chairman Martin Walsh was presented with the trophy by federation chairman Phil Taylor at the Men of Cornwall Choir rehearsal in Newquay. Photo: JUDITH PINGUEY
May 2022
HALFWAY

Harmony helped raise £254 for church and cancer charities when they sang at St Bartholomew's Church, Lostwithiel, with the ukelele band, Lost Chords.
Wedding bells
WE were at Maker Church at the end of the month for the wedding of Emma Channing and Tom Hall, performing 11 songs and leading the three hymns  – a joyous occasion on a truly glorious afternoon.
March/April 2022
SING 4
Ukraine, 
£2500 cheque
sent 
 photos by Kate Atkinson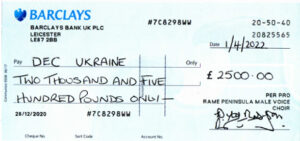 m
THE choir concert in Kingsand Community Hall in support of victims of the Ukraine conflict raised a staggering £842. We are overwhelmed by the manner in which our community has yet again opened its hearts and its wallets. With proceeds from the Institute coffee morning and all receipts from Halfway Harmony's St Piran's Day gig in the Copley Arms, plus further donations, this resulted in a cheque for £2500 being sent to the Disasters Emergency Committee. Thanks go to all who contributed. The choir was joined at the March 12 concert by Looe-based Keltique, and by choristers from Loveny and Pelynt, and we thank them for their support in what proved an uplifting and emotional concert, with both choirs and many of an appreciative audience decked in Ukraine's national colours. We must also acknowledge the generous support of the Community Hall and the Community Bus, both of whom waived the fees for their services. Sadly, the concert came at a cost. Several choristers and members of the audience have since succumbed to Covid – to date none of them reporting serious symptoms. Speed your recovery.
February 2022.
Welcome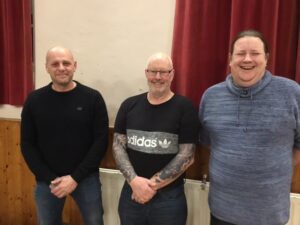 YOU wait ages for a new choir member, and then like a dodgy bus service, three show up at once! So welcome (above, from left) Andy Jenness (bass), John Lingard (top tenor), and Jason Holt (baritone). And – joy and rapture – they can actually sing! All three have discovered the well-trodden path to the Halfway House, and are proving a welcome addition to the ranks of our folk, sea shanty, and rock ensemble, Halfway Harmony. Great to have you aboard.
February 2022
All our yesterdays
WE HAVE unearthed four cassettes made by the choir – the first dating back to one made for our tenth anniversary. You can see copies of the sleeves on the CD page. There are only copies of 25 Years of Song available to sell, but we are exploring the quality of the four recordings to see whether a new cd  – a sort of "Greatest hits" or "Best of the choir" can be compiled from nearly 80 tracks on these. Chairman Martin Walsh has offered to explore the possibilities of re-engineering all our yesterdays. To buy the 25th anniversary tape (£6 inc p&p) click here
Massed choirs of Cornwall
SINCE May 2019, groups of Choristers from the various Male Voice Choirs in Cornwall from East to West, and North to South, planned to meet every month to rehearse the repertoire for this tremendous event. Until Covid struck. Rehearsals have now resumed, and individual choirs are also practising at their own rehearsals with individuals learning within their own personal time. Four MDs: Marcus Alleyne, Kate Wood-Catran, Stephen Lawry, and Philip Taylor will each take a set, and we are thrilled that our very own accompanist, Liz Sidebotham, will be working with Marcus and Phil. It promises to be a fantastic evening. The Symphony Hall is ranked No1 in the UK for acoustic quality, and seventh in the world. So it is an event not to be missed. Originally planned for 2020 but postponed twice due to to the pandemic, the date is now set for Saturday 3rd September, 2022.  All tickets already purchased remain valid.
February 2022
New music files
LIZ has put music files of all four parts of the Birmingham music, provided by Marcus Alleyne on our website. Some items are already in our repertoire. It is an invaluable teaching resource for us. She has also massively updated our own music files. So please use them.
February 2022
THE Covid pandemic effectively silenced our choir. From Christmas 2019 to the summer of 2021 we had no performances for 20 months Prevailing regulations also meant that for most of that, rehearsal indoors was banned. We were unable to sing at the funeral of leading bass Bill Russell where we had the bizarre experience of lining the route to his grave, socially-distanced through Maker churchyard, as the family played a choir cd of his favourite tunes. It was an emotionally harrowing departure from choir tradition.
We were fortunate that one of our number, farmer Dave Turner, provided the use of a large barn where we were able to rehearse prior to resuming open-air concerts in August 2021. His cows seemed to enjoy the experience though no research was done on whether milk yields improved. However, one large rat was seen to race from the building as we sang, prompting the thought that our cd may have added value as a rodent deterrent!
Full rehearsals have resumed and we have since been blessed with a few new members. Yet our first indoor post-lockdown event proved fraught. The choir traditionally helps launch the Royal British Legion poppy appeal, but when they did so, more than half succumbed to Covid, with one being hospitalised.
Our first concert since Christmas 2019 was enthusiastically-welcomed outside The Rising Sun on The Green, in early August. There was no disguising the pleasure of one of the largest audiences before which it has been our privilege to perform. Generosity was overwhelming – a total of £550 raised due largely to the efforts of our wonderful band of lady supporters. We would like to thank the community whose support was repeated when the choir gave a second concert on The Cleave and a third in Cawsand Square. A fourth, planned for the Community Hall garden, had to switch into the hall, due to rain.
The choir's folk, sea shanty, and 60s rock ensemble, Halfway Harmony, performed in the Community Hall garden at the church fete, where cheques were presented by the Rame choir to the Institute, Community Hall, and to help fund defibrilator pads. That had been raised by street carol-singing in the twin villages at Christmas 2020 – the only time we had been able to sing since the Community Hall concert a year earlier.
Andrew Willoughby, whose son Robin is the choir's youngest member, hosted a lunch at his home near Antony. There, the Halfway group performed to a gathering of Oxford University alumni whose objective is to raise funds for bursaries available to Cornish students – more sparsely represented at Oxbridge than students from any other county in the UK. The Halfway ensemble had taken advantage of a gazebo in a member's garden for outdoor rehearsals over several weeks.
The Christmas Concert where we were joined by the Singsanders ladies' choir, proved a rewarding return – but challenging given it was in competition with the final of Strictly!
Rehearsals for the Men of Cornwall choir have recommenced – their delayed concert in Birmingham will now take place with some 300 voices on September 3. A provisional programme is underway, including a memorial service for Rame members lost over the past two years, plus two weddings, and a Queen's Jubilee event at Maker church.
Our first annual meeting in two years saw the re-election of Martin Walsh as chair, David Rosson returned as secretary, and Dave Turner as treasurer. David Clarke took over as vice chairman and also resumes as concert secretary. We continue to welcome anyone interested at our weekly Wednesday rehearsals (7.30pm in Kingsand Community Hall). Being deprived of singing for so long has reinforced how much we have missed it, and how therapeutic singing is.
January 2020
TWO of the choir's most loyal committee servants stood down at the annual meeting. Between them, David Rosson and Barry Rundle had logged almost 30 years' service, contributing enormously to recent successes, but feel they need a break.
David had served four stints as secretary, a prodigious 19 years in all, while Barry completed a straight eight as treasurer. Both second tenors are regular soloists.
Barry acted as choir rep at the Cornish Federation, where he did much to enthuse other choirs who supported Rame's fund-raising efforts for Derriford oncology. Barry was also a regular compere at concerts.
He is succeeded as treasurer by award-winning Mendennick farmer Dave Turner, while Tim Hensman steps up as secretary. Martin Walsh continues as Chairman, with Dave Clarke and Graham Hoare remaining concert secretary and webmaster respectively.
December 2019
THE choir's charitable ethos was reinforced over the festive period with a raft of activities. These included the Christmas Fayre at Mt Edgcumbe, and within hours, a further performance at Antony Business Centre's Craft Fayre. There was an emotional appearance before dementia patients at Bodmin Hospital with some patients up dancing – reportedly engaging with carers for the first time in months.
There were charity events at Thankes Park and Fort Picklecombe, plus spectacular concerts with Torpoint Ladies in St James's Church and The Singsanders in Kingsand.
In Torpoint the beneficiary was a children's cancer charity, while the joint concert with The Singsanders in a packed Kingsand Community Hall raised a remarkable £500 which will help provide new disabled toilet facilities.
We thank our community which proved as generous as ever at our December coffee morning where £500 was raised towards our annual costs.
May 2019
VERY sad news. Our choir recently had the sad privilege of singing farewell to our oldest member, Fred Luckraft, who has died at the age of 93. For his obituary, please see here.
Pictured below are Robin Willoughby (our youngest member) with Fred Luckraft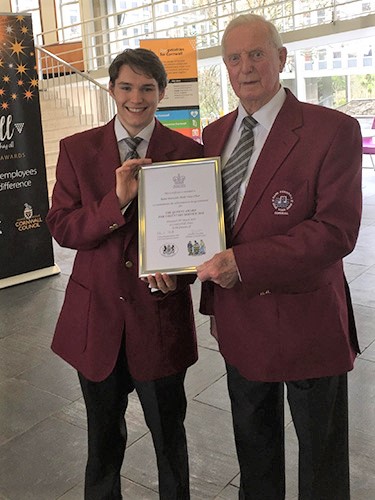 Autumn 2018
OUR choir continued to break new ground. On 12th October 2018, a "Musicals Night" was presented in Torpoint, along with the Keltique ladies' choir. Then, on Saturday 10th November, the Choir played a full part in a moving commemoration of the end of World War One.
Summer 2018 

THE choir was honoured to be awarded the Queen's Award for Voluntary Service (QAVS – the MBE for volunteer groups).
The Award was presented to the Choir at a special, free concert held at St James Church, Torpoint on Friday 24 August 2018. See pictures.

Check out our special QAVS page.
OUR thanks go to the whole community and the supportive men's and ladies' choirs from all over Cornwall whose generosity helped us win the Queen's Award.
We're the first men's choir in the UK to win it, and this was Cornwall's only winner in 2018.
By early 2020 when our Derriford Oncology equipment appeal was finalised, it had raised in excess of £22,000. We could not have done it without you. For us, this honour embraces our whole community.
---